Dr. Sameep Sohoni – The Best Spine Doctor in Thane, Mumbai
If you suffer from spinal issues, or severe spine, or backbone pain, schedule a consultation with Dr. Sameep Sohoni, a renowned Spine Surgeon in Thane. 
Dr. Sameep is here to help you through the journey of achieving the best spine health & living pain-free outcomes. Visit the Spine Clinic in Thane, Mumbai, for the best solutions for your spinal health.
Dr. Sameep Sohoni is renowned as the best Spine Surgeon in Thane, Mumbai, India. He is well respected throughout the country for his expertise as a spine surgeon. He is associated with Kaushalya Medical Foundation Trust Hospital & Dr. Bhanushali Hospital in Thane. He received his MBBS & MS in Orthopaedics from Seth GS Medical College & KEM Hospital, respectively, in Mumbai. 
Dr. Sameep is an active member of several organizations, including the Kaushalya Medical Foundation Trust, Rotary Clubs, Thane Orthopaedic Association, & IMA Thane. He is the most qualified orthopaedic physician in Thane, Maharashtra, India. He has held several seminars & camps in Thane City & District for "Arthritis, Osteoporosis, & bone Disorder" identification & awareness. Additionally, Dr. Sameep's treatment technique at Best Spine Clinic in Mumbai differs from other top spine clinics.
Expertise That Makes Dr. Sameep Sohoni as The Best Spine Surgeon in Thane, Mumbai
Maintaining spine health requires skilled advice. Consulting with Dr. Sameep Sohoni, an Orthopedic doctor in Thane who specializes in spine health, is the best option to receive valuable guidance on posture, exercise, & lifestyle modifications to maintain the health of your spine. Dr. Sameep's best expertise that helped him become India's greatest spine specialist:
He has received

extensive training in spine surgery

, both in India & abroad, & his credentials & certificates are proof of his dedication to quality.

He

uses the newest medical procedures & technology

in his practice to provide his patients with the finest treatment.

He is well-respected not just for his professional competence but also for his

caring approach

& the time he takes to get to know each patient on a personal level & address their specific issues.

He has a

proven track record

of assisting countless patients in regaining their quality of life through expert spine surgery, as evidenced by the number of patients he has successfully treated.
Overall, the solution to the spine problem is a Spine Surgeon in Thane. Get the best care possible from an esteemed Dr. Sameep, Spine Surgeon in Thane & start improving your health right now!
No One Loves Back Pain. Why Should You??
How Dr. Sameep Sohoni's Technique Can Help Your Spine ?
Understanding your spine's health is the initial step in making informed decisions. When it comes to your spine, Dr. Sameep follows a systematic approach to diagnosis & treatment:
Understanding the Spine Anatomy:
Dr. Sameep Sohoni believes that knowledge empowers his patients. He will explain the spine's intricate structures in a simple way to help patients recognize the issue they have.
Spine Anatomy – The spine is a complex & crucial part of the human body, as it serves as the central support structure & plays an important role in maintaining posture, supporting movement, protecting the spinal cord, & facilitating various bodily functions. The anatomy of the 33 vertebrae in five regions of the spine:
The cervical spine (neck), composed of seven vertebrae labeled c1 to c7, supports the head's weight & enables neck movement.
The thoracic spine (upper back), which supports the rib cage & safeguards the heart & lungs, consists of 12 vertebrae labeled T1 through T12.
The lumbar spine

(lower back) is composed of five vertebrae labeled l1 through l5 & carries the majority of the body's weight, making it susceptible to stress & injury.

The sacral spine

consists of five fused vertebrae that comprise the sacrum, which connects the spinal column to the pelvis.

The coccygeal spine

is composed of four fused vertebrae that make up the coccyx or tailbone.
The structure of the spine also includes intervertebral discs that function as stress absorbers, facet joints that allow movement between vertebrae, & a network of muscles, ligaments, & nerves.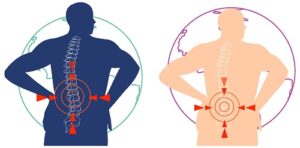 Am I a candidate for surgery? Even with the best preventative measures, the following are some of the most common spine conditions that may occur, each of which may cause intense pain and may need non-surgical or surgical intervention:
A herniated disc (bulging disc)

develops when the fragile inner core of an intervertebral disc pushes through the harder outer layer, causing nerve compression & discomfort in the legs or arms.

Degenerative disc disease

(DDD) is a back condition of slow degradation of intervertebral discs which causes lower disc height & increased spinal friction, causing chronic back pain.
Bony or spine tumors

may induce pain, neurological impairments, or other symptoms.
Scoliosis,

an atypical curvature of the spine, frequently manifests during adolescence & may necessitate surgical intervention.
Spinal fractures

(fractures or breaks in the vertebrae) are caused by trauma, osteoporosis, or other medical disorders.
Spinal stenosis

involves the narrowing of the spinal canal or neural foramina, which can exert pressure on the spinal cord or nerve roots, resulting in pain, paralysis, or numbness.
Spondylolisthesis is a disorder that triggers lower back pain & nerve compression when one vertebra slips forward over another.
Common Causes and Risk Factors for Spinal Disorder
Understanding the reasons for spine issues—aging, lifestyle, or injuries—is important. The most common causes include:
Accidents

Aging-related wear & tear

Congenital (from birth) disorders

Genetic disorders

Inflammation or any infectious disease

Various injuries, from mild to severe
Essential to prevention & early intervention is the evaluation of risk factors. Dr. Sameep Sohoni (Top Knee Replacement Doctor in Mumbai) will also identify & address spinal disorder risk factors. Among the risk factors for developing a spine disorder are the following:
Aging with no risk factors

Work or exercise overuse

Overweight or excessive weight (high BMI)

Poor posture or lifting techniques

Repetitive strenuous activities

Lifestyle factors including smoking, insufficient calcium intake, & an inactive lifestyle

Other health problems such as arthritis, rheumatoid arthritis, & thyroid disorders
Signs, Symptoms & Diagnosis of Spinal Disorders
Signs & symptoms are condition-specific & frequently affect other regions of the body, depending on the affected area of the spine or spinal cord. Some common signs & symptoms are:
Pain and stiffness in the neck, back, or lower back

Abnormally rounded upper back or shoulders

Stabbing, dull, or scorching back or neck pain

Pain spreading through the arms or legs

Asymmetry, such as one shoulder or pelvis being higher than the other

Bowel or urinary dysfunction

Weakness, sensation, or paralysis in one or both arms or legs

Vomiting or feeling nauseous

Stiffness or tightness
Understanding the signs of spinal conditions is important, whether minor or severe. If you're in need of a Spine Doctor in Thane, India, Dr. Sameep Sohoni is here to help you determine whether or not your symptoms are minor, mild, or severe. Dr. Sameep uses advanced diagnostic equipment and techniques for thorough assessment that include:
Physical exam

X-rays for fractures & tumors

MRI or CT scan to detect spinal canal pressure

Tests for spinal cord problems using myelography

Electromyogram to identify the nerve root
Family & personal medical history

Risk & symptom discussion

Neurological evaluation for suspected nerve damage or dysfunction
Your Spine's Biggest Enemy May Be Your Daily Behavioral Issues
Treatment Options for Spinal Health
Which treatment is best for spine problems?.. Dr. Sameep Sohoni provides both non-surgical & surgical alternatives, depending on the severity of the patient's condition including:
When spine-related problems are diagnostic, non-surgical treatment options are the first line of defense against spine disorders. These are the following non-surgical options:
Physical therapists

design individualized exercise regimens to strengthen the muscles supporting the vertebrae, increase the range of motion, & alleviate pain.

Medication

such as nonsteroidal anti-inflammatory drugs (NSAIDs), muscle relaxants, & pain medications to treat inflammation & discomfort.

Injections

such as epidural steroid injections place corticosteroids in the epidural space near the spinal cord, where they can reduce inflammation & pain.

Chiropractors

realign the spine & relieve pain through manual manipulation techniques.

Acupuncture

is the practice of traditional Chinese medicine that involves inserting thin needles into specific body locations to relieve pain & enhance overall health.
Lifestyle modification such as changes to daily activities & behaviors, such as weight management & posture correction, can significantly affect spinal health.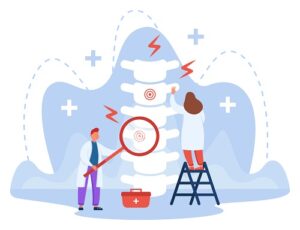 If surgery is necessary, Dr. Sameep Sohoni will ensure that you receive the best possible treatment to help you recover quickly & avoid other problems with your spine to alleviate pain, stabilize the spine, or correct neurological impairments & conditions. 
If you do need major surgery, there are several different types. Spine surgeries include:
Laminectomy:

To remove part of a vertebra's bony arch to alleviate spinal cord or nerve strain.

Discectomy:

A part of a herniated or injured disc is removed to relieve nerve pressure.

Spinal fusion:

To stabilize spinal, which involves joining vertebrae using bone grafts, rods, or screws?

Artificial disc replacement:

A damaged disc is replaced with an artificial one to maintain spine mobility.

Vertebroplasty & kyphoplasty:

To stabilize & ease discomfort, bone cement is injected into damaged vertebrae.

Microdiscectomy:

To remove herniated disc material using a tiny incision.
Scoliosis surgery: For severe scoliosis cases, this surgery may need to straighten & fusion the spine.
After spine surgery, post-operative care is essential for a successful recovery. But what postoperative lifestyle adjustments & rehabilitation measures should patients be aware of to promote optimum spine health? Dr. Sameep Sohoni, the Best Spine Surgeon in Thane, Mumbai will guide you to get better soon with the right rehabilitation & assistance.
Orthopedic expert Dr. Sameep's recommendations for post-operative care:
Adhere strictly to the surgeon's postoperative instructions for the activity, wound care, & medication.

Engaging in target physical therapy that is essential for spine strength & mobility after surgery.

As necessary, administering prescribed pain medications to manage post-operative discomfort.

Immediate reporting of infection, significant bleeding, or increasing symptoms to the doctor or healthcare staff (in case you are in hospital).

Once the surgeon (Dr. Sameep) approves, gradually resume everyday activities & avoid heavy lifting & intense activity.

Continue to monitor your progress & address any concerns with Dr. Sameep.
So, here finally ends up all about spine issues dealt with by Dr. Sameep…
Why should you choose Dr. Sameep for your spine health? Ultimately, Dr. Sameep is a spine expert & a light of hope for spine patients. He is the best Spine Specialist in Thane due to his competence, compassion, & dedication to his patients. When you pick Dr. Sameep, you're making a decision to:
A world-class expert guidance with a track record of success.

A physician with compassion who is concerned about your health.

Access to the most advanced techniques & technologies in the field of spine surgery.

Individualized treatment programs customized to your specific requirements.

Comprehensive support & guidance throughout your spinal health journey.
Visit Kaushalya Hospital & Dr. Bhanushali Hospital - For Expert Solutions & Care
Best Spine Clinic in Thane, Mumbai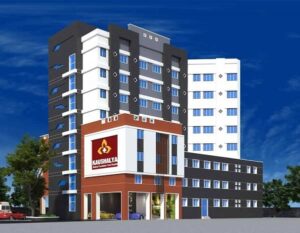 Do not allow spinal issues to prevent you from living your best life. Contact Dr. Sameep Sohoni, the best spine surgeon in Mumbai & the best endoscopic spine surgeon in Thane, Mumbai, to take the first step towards a pain-free, active future. 
Remember, your spine is a vital part of your body, & maintaining its health should be your first priority. Every twist reminds us to address the growing troubles in the spine. Whether you're seeking preventive care or facing a spine-related issue, Dr. Sameep & his healthcare team at Spine Surgery Treatment Hospital in Thane West can guide you toward a healthier, pain-free life. Trust in the expertise of Dr. Sameep, the specialist who prioritizes your spine health above all else. 
Thus, stop suffering from spine pain & take the first step towards a pain-free life by contacting Spine Clinic in Mumbai right now…. Boost spine health with Dr. Sameep, the top Spine Surgeon in Thane.
Keep Your Spine High...!!