Partial Knee Replacement
The blog is the best place for you, if looking for complete info on Partial knee replacement… The blog covers topic: Partial knee replacement in detail, along with topics associated…!!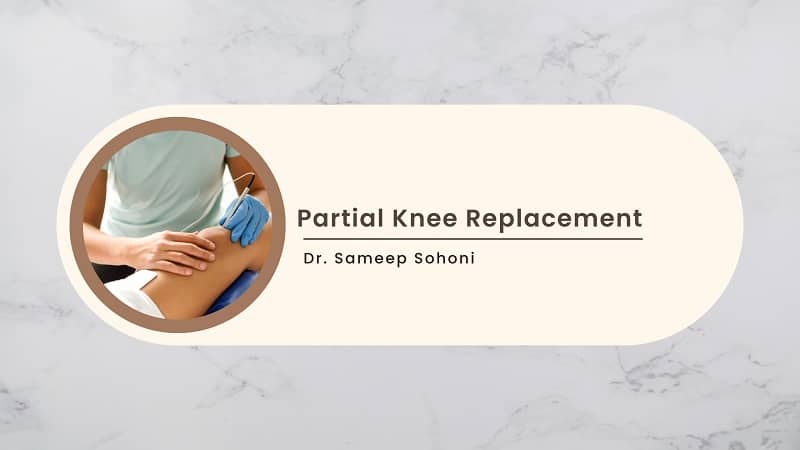 What is Partial Knee Replacement?
Partial knee replacement (aka Unicompartmental knee replacement surgery) is a procedure which is done when damage to a knee from osteoarthritis is confined to only one compartment…
In this case, only the damaged knee part is replaced or resurfaced.
This partial knee replacement surgery procedure is an alternative to total knee replacement for patients whose disease is limited to only one area of the knee.
In this, the damaged areas are replaced with an artificial implant known as prosthetic. The rest of the knee is preserved.
Partial knee replacement surgeries are usually done with smaller incisions… hence do require less recovery time.
In the case of this surgery… patients are requiring to spend little to no time in the hospital and they return to normal activities sooner than that of total knee replacement
This knee surgery is mostly done on young people, because of its quick and painless recovery feature.
About 5% to 6% of people with arthritis knee are estimated to be eligible for partial knee replacement surgery procedure.
Types of Partial Knee Replacement
There are two basic types of partial knee replacement surgery:
Unicondylar Knee Arthroscopy
This partial knee replacement surgery is highly common. In this one side: the medical (inner side) or lateral (outer side) of the knee joint surfaces are replaced.
Patellofemoral Joint Replacement
This is less common. In this only the patella (kneecap) and the femur part it connects to are diseased.
Bicompartmental Knee Replacement
A procedure that do replaces two knee compartments, the medical and patellofemoral compartments.
Partial Knee Replacement Recovery
Partial knee replacement recovery times vary substantially from patient to patient.
However, the set forth timeline provide one with a sense of what to expect…
24 Hours
After arriving in theatre, an anaesthetic is given to patient for sending him/her to sleep.
The pain-reliving effects of the medicine do last for the next 24 hours…
When patient wake up, he/she is updated about the procedure and is kept on regular checking of progress.
1-2 Days
Majority of the partial knee replacement surgery  patients are sent home within a day or two days of their respective operation.
Nonetheless, there are few thing considered in this case.
It is ensured whether is wound is fully dry or not.
Knee is flexed to 90 degree… Though this is not always necessary.
It is checked whether the patient is comfortable enough with crutches to be able to get up and down stairs.
Lastly, physiotherapy team spend some  time with the patient… enabling him/her run through an exercise plan, which ultimately helps out with the recovery.
1-2 Weeks
In some cases, 1-2 weeks are required for partial knee replacement surgery recovery.
After 1-2 weeks, some patients find themselves capable of stop using crutches around the house by this point.
4-6 Weeks
Approximately after 1 month, people can think of starting their normal life again…
After this period of time, one stop using crutches and can go for longer walks.
Meanwhile, patient can be continuing doing the prescribed exercises… gently building up strength in the muscle around knee.
This is the stage where most of the people found themselves capable of driving again.
4 Months+
4 to 6 months is the period when most people find themselves capable of getting back to their respective normal activities.
By this time, patient will find himself/herself more stable on his/her feet… capable of tackling longer walks and more varied form of exercise.
Success rate of partial knee replacement surgery is usually 85-90%.
Pros and Cons of Partial Knee Replacement Surgery
Researches reveal,
Patients who are appropriate candidates for this partial or unicompartmental knee replacement surgery do have good results with this procedure.
Advantages of Partial Knee Replacement Surgery
Do require shorter recovery time.
Carries less risk
Means more natural knee motion
Less expensive than that of total knee replacement surgery
Disadvantages of Partial Knee Replacement Surgery
Partial knee replacement surgery do not last forever
Osteoarthritis can get worse
Damage to blood vessels can occur
Nerve damage
Blood clots
Infection
Ongoing pain
Who is a Candidate for Partial Knee Replacement Surgery?
People suffering from medial or lateral knee osteoarthritis are consider to be a candidate for partial knee replacement surgery…
Medial is referred to as the inside joint compartment, which is compartment nearest the opposite knee… However, Lateral is referred to as the outside compartment farthest from the opposite knee.
Note: Medical knee joint degeneration is the most common deformity of the arthritis.
Other Factors To Consider:
In case if knee pain do persists despite intaking anti-inflammatory drugs and maintaining a healthy weight.
Usually provider ask patients to identify the knee pain area… then he/she checks motion range and the knee's stability. Based on this, an X-Ray of knee is performed… in order to determine the patient's eligibility for partial knee replacement.
Note: Nonetheless, surgeon may not know for certain… if he/she is a good candidate for the partial knee replacement surgery, until the surgery get begun.
One must have an intact anterior cruciate ligament… an enough knee motion range. Damage should be limited upto one compartment only, along with a stable knee. Moreover, the deformity angulation is also considered.
Dr. Sameep Sohoni – Best Partial Knee Replacement Surgeon in Thane, Maharashtra
Dr. Sameep Sohoni is a consultant Orthopedic Doctor in Thane, Maharashtra, India… with an overall 12+ years of experience in orthopaedic industry.
Doctor do currently practices at Kaushalya Hospital & Dr. Bhanushali hospital… the best orthopaedic hospital in Thane, Maharashtra.
The doctor specializes in Joint replacement surgery (Total Knee Replacement Surgery, Total Hip Replacement Surgery, Partial Knee Replacement Surgery).
Doctor Sameep do make usage of several enhance techniqutdrse to conduct total knee replacement surgery and partial knee replacement surgery. This is the reason… the success rate of partial knee replacement surgery conducted by him is 100%.
Dr. Sameep Sohoni is the best knee replacement surgeon in Thane.
Do consult him for the best partial knee replacement surgery in Thane.