Can Knee Replacement Cure Osteoarthritis? Registered Dietitian Weight Loss Program
The blog is answer for all those who are curious for… Can Knee Replacement Cure Osteoarthritis? Moreover, include information associated with the main query…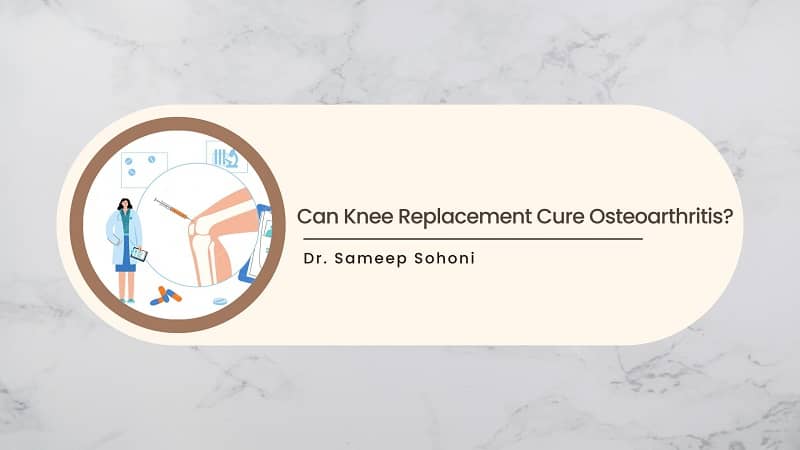 Thanks to the recent advances in orthopaedic surgery, you don't have to suffer with knee pain due to osteoarthritis anymore. Osteoarthritis is among the top causes of limitation of physical mobility . It is a degenerative condition that affects middle aged to older adults.
There is a disintegration of the joint cartilage that limits movement and causes pain. Activities such as bending, walking, or climbing the stairs may cause swelling and pain. If measures such as pain medication, injections, supplements, weight loss etc have not provided sufficient relief from pain, then knee replacement surgery may be the answer.
Also known as arthroplasty, knee replacement surgery is a procedure that involves replacing the damaged knee with an artificial joint.The procedure is performed by an orthopedic surgeon. The damaged parts of the joint are removed and replaced with prosthetic metal and plastic parts.
Osteoarthritis After Knee Replacement
Knee replacement is an effective way to relieve pain in the joints that is caused by osteoarthritis. After recovering from the surgery, it is important to prevent and manage the symptoms of osteoarthritis by
Maintaining a healthy weight
Following a proper exercise schedule
Take prescribed medications
Best Time of the Year To Have Knee Replacement
The best time to have a knee replacement surgery will be the summer or autumn seasons. This is because it makes recovery a little easier and keeps you relatively comfortable in terms of changing clothes, avoiding too many layers of clothing such as during winter, makes moving around little easier.
Getting through the day is easier during these seasons, especially if you are a senior citizen.
There is less strain on the joints during seasons other than winter and doing the recommended activity is easier during summer and autumn seasons.
Signs That You Need A Knee Surgery
If you are experiencing severe knee pain that limits your activities
The knee pain persists at anytime of the day as well as night
You have swelling in the knee that does not improve with rest
You are over 60 years of age and have osteoarthritis
You have bowing in or bowing out of the legs
You have an injury that calls for replacement of the knee
Recovery After Knee Replacement
After 6 weeks, you will be able to resume normal activities
In about 3 months, the pain and swelling settles well
It may take up to a year for the swelling to subside completely
Disadvantages of Knee Replacement Surgery
If you are obese, or someone who does heavy physical activity, the replacement wears out sooner
The average time that a knee replacement lasts is about 12-15 years following which a revision surgery may be required
Very rarely, with anesthesia, dizziness or difficulty in breathing may occur
There is a very small risk of developing blood clots that may affect the lungs
Wound and bleeding complications are rare, but possible
When one knee is replaced, and the other is not, those with bow legs experience a difference in height that puts pressure on the hip
These possibilities can be minimized by following proper aftercare instructions after the procedure
Alternatives to Knee Replacement- Bone on Bone
Sometimes, your surgeon may suggest alternative procedures to manage the pain, stiffness, and swelling in the joint. You may try losing weight, pain medications, and low impact exercise at home. Injections including hyaluronic acid, cartilage regeneration, radiofrequency ablation are other options
What Not To Do After Knee Replacement
Avoid unnecessary strain before your recovery such as jogging, jumping, squats etc
Do not walk or climb without support. Use handrails while climbing stairs
Avoid high impact activities such as trekking, soccer, football etc
Avoid sitting for long periods of time
Do not sit on low chairs or seats
Avoid keeping the joint in the same position all day
Maintain a healthy weight to avoid extra strain on the replaced joint
Follow the exercises recommended by the therapist to keep the joint healthy and mobile
Scraping Arthritis from Knee
Also known as arthroscopic debridement, this scraping procedure involves clearing the joint of the broken pieces of cartilage and tissues and clearing the space , thus improving joint mobility and reduce swelling.
Patients tend to lose their balance when the thigh bone and the leg bone are one on one with each other. The surgeon may suggest a resurfacing procedure that involves the knee bones, femur, and tibia.
Dr. Sameep Sohoni – Best Knee Replacement Doctor in Thane, Maharashtra
Dr. Sameep Sohoni is a top orthopedic doctor in Thane, with huge experience of 12+ years in this field. Currently working at Kaushalya Hospital & Dr. Bhanushali Hospital, Dr. Sameep specializes in Joint Replacement Surgery (Total Knee Replacement & Total Hip Replacement), Fracture Surgery, Bone & Joint Disorders, Sports Injuries, Arthritis and etc.
The doctor has done his MS Orthopaedics and MBBS both from Seth GS Medical College and KEM Hospital, Mumbai. Moreover, he has been notified highly active in numerous other ways… like he has been an active member of a highly reputed organization… Indian Arthroscopy Society.
He is without any doubt the best one to go for knee replacement surgery in Thane, Maharashtra, India. As he is the best knee replacement surgeon in Thane.
References: