Reasons You Should Consider Knee Replacement Surgery
The blog is dedicated to topic: "signs you need knee replacement surgery"… Read it thoroughly to get answer to your this question…!!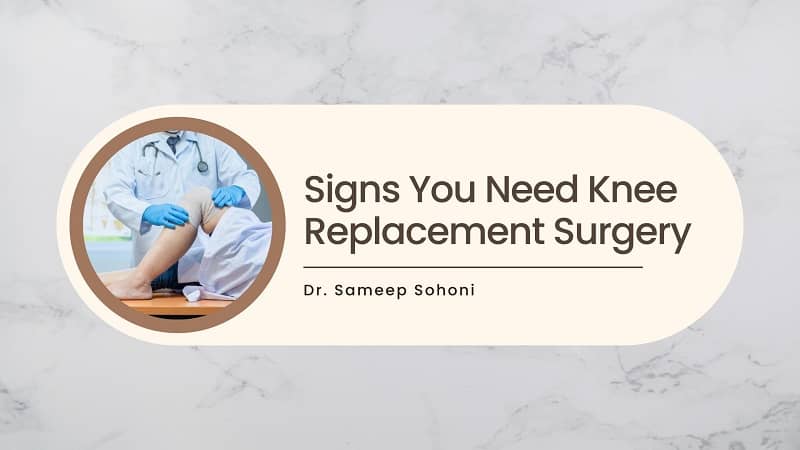 When it comes to knee replacement surgery… it is said that… It is one of the most successful surgeries in all of the medicines.
Its not us… who's saying this… But,
American Academy of Orthopaedic Surgery (AAOS) have states this fact.
If you're alike million others, suffering from bad knee or knee pain issue… then there are chances you might be considering knee surgery… however, not too sure about that.
Well, if regarding knee replacement surgery, you're worried about pain management, the amount of time away from work, complications, your age… Then friend you need to be aware of this fact that…
Numerous reasons against knee surgery are solid good reasons to go through knee surgery. As it helps you manage pain, improve your attendance and work performance. Moreover, knee replacement surgery reduces complications such as sedentary lifestyle and obesity… Apart from this, the best part is… it can be performed at any age.
So, this was about, how knee replacement surgery or knee surgery is not very tough or hard to handle or get recover from.
Now the thing is when to consider it or when not…
Here below we've listed certain signs which do indicates that now there is seriously requirement of knee replacement surgery…
Signs You Need Knee Replacement Surgery
Below find about the symptoms indicating that you need knee replacement surgery now…
You've Bad Arthritis
Osteoarthritis, the wear and tear type of arthritis, rheumatoid arthritis…an autoimmune condition which leads to joints pain and damage or post-injury arthritis.
At time, when all these symptoms become severe, the person need to get aware of the fact that it might be a symptom, you need knee surgery now.
Nonsurgical Treatments Are No Longer Effective
Usually in the case of knee arthritis, conservative measures like: steroid injections, medications or physical therapy are implemented. However, in some cases, these measures are proven not to be enough.
These ones are actually temporary measures to provide pain relief. However, as a matter of fact, they neither reverse the underlying cause of pain nor allow the cartilage to regenerate.
With the time, these arthritis conditions progress in severity, rendering the above mentioned treatments lesser efficient.
At this point of time, knee surgery can be an option.
Swollen Knee
Swelling is one of the most prior indication, you knee is not responding to other treatments.
Lieberman says,
A knee which is consistently swollen, despite the usage of anti-inflammatory medications, steroid injection and physical therapy are likely  in need of surgery… total knee replacement surgery.
Not Able To Do Normal Activities
If the person is not getting relief from other treatments, then in that case… knee pain might start interfering with daily life.
So, if encountering knee pain issue while doing daily normal activities, its time, the person do need total knee replacement surgery.
Knee Instability
When knees give way while walking in a way person feel risk of falling, this might be scene of serious injury.
In this situation, total or partial knee replacement surgery can help, correcting this instability and reducing risk of fracture injury.
Knee Deformity
If you do have a knee deformity, like bowed leg or a knocked-knee… this might put extra pressure onto the knee joint, ultimately leading to pain. Alike above one, in this situation also, partial or total knee replacement surgery can help in correcting the deformity and relieving the pain.
Bone-on-Bone Arthritis
If you do have knee arthritis, that has progressed to the point where there is no cartilage left between the bones (bone-on-bone arthritis), a partial or total knee replacement surgery would be the best option for pain relieving.
Knee Pain at Night
If you're struggling in your night sleeping because of severe knee pain, this is a clear indication that pain is severe and is not responding to the other treatments.
In this case, knee replacement surgery can help out relieving pain and allowing you to have good night sleep.
Age Above 65
With age,  the risk of developing knee osteoarthritis, rheumatoid arthritis, and other leading leading to knee pain increases.
So, if you're above the age of 65  and is suffering from chronic knee pain, knee replacement surgery would be the best option for  you for knee pain relieving.
You Are All Set For Change
Now if you are done with your decision that you're ready to get cure of your knee pain on permanent basis, consulting Dr. Sameep Sohoni would be the best option for you…
Dr. Sameep Sohoni – Best Knee Replacement Doctor in Thane, Maharashtra, India
Thane-based Dr. Sameep Sohoni is one of the most reputed doctors, specializing in Orthopaedics. With experience of more than 12 years (11 years as specialist) Dr. Sameep specialized in…
Joint Replacement Surgery (TKR & THR)
Orthopaedic Surgeon
Shoulder Replacement
Elbow Replacement
Fracture Surgery
Bone & Joint Disorders
Sports Injuries
Arthritis
And etc
The Doctor is currently working with Dr. Bhanushali Hospital. However, has previously worked at Kaushalya Hospital.
Dr. Sameep Sohoni has done his MS Orthopedics and MBBS both from Seth GS Medical College and KEM Hospital, Mumbai.
He do provide best in patient care, surgical expertise, via utilizing all the enhance new era technology…like: computer navigated knee replacement surgery.
Thus, refer to him for the best knee replacement surgery in Thane, as he is the best knee replacement surgeon in Thane. The best Orthopedic Doctor in Thane.