Causes of Osteoarthritis [How to Prevent Osteoarthritis?]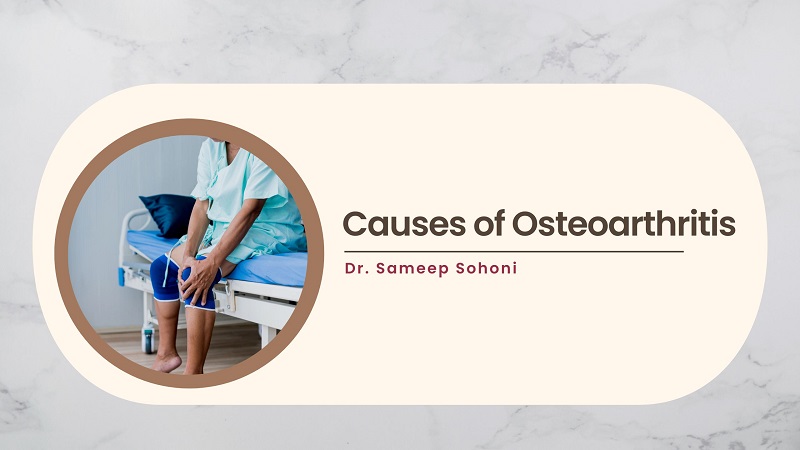 One of the most common degenerative joint disorders is osteoarthritis (OA). Patients often tell their doctors, "I cured my osteoarthritis," & then look for ways to make this hope come true. The causes of osteoarthritis are unclear despite ongoing research. However, a combination of mechanical & biological factors may cause the condition.
Let's examine the causes of osteoarthritis, as well as its stages, symptoms, diagnosis, how to prevent osteoarthritis & the available treatments.
Osteoarthritis Pathophysiology
Understanding the pathophysiology of osteoarthritis is essential for effective treatment. As the cartilage deteriorates (due to the release of proinflammatory cytokines & enzymes & the formation of osteophytes, or bone spurs), it becomes rigid & brittle, resulting in pain & movement restriction. Over time, cartilage may deteriorate completely, causing bones to rub directly against one another.
Pain is the primary osteoarthritis symptom, particularly after prolonged activity. Additional osteoarthritis symptoms include:
Stiffness, particularly upon waking up or being inactive

Tenderness when mild pressure is applied

Loss of flexibility

A grating sensation while in motion or Crepitus

Swelling (or inflammation) around the joint
Different joints cause different types of osteoarthritis:
Knee Osteoarthritis:

 The most common type, which affects millions worldwide.

Hip Osteoarthritis:

 This affects the hip joint & can affect walking ability.

Hand Osteoarthritis:

 Affects the thumb's base & the individual fingers.

Spine Osteoarthritis:

 Targets the neck & lower back.
Causes of Osteoarthritis
OA is the primary cause of chronic disability among the elderly. The disease primarily affects weight-bearing joints, such as the knees, hips, cervical & lumbar spines, & feet. Also frequently affected are the distal interphalangeal (DIP), proximal interphalangeal (PIP), & first carpometacarpal (CMC) joints.
The common causes of osteoarthritis, such as:
Aging:

 Age-related changes in collagen matrix traits such as declines in chondrocyte responsiveness, decreased lubricating fluid inside the joints, & dropped repair ability worsen cartilage deterioration, an indicator of OA. 

Joint Injuries

 & 

Mechanical Stress:

 A joint injury from sports, work, or accidents can be one of the primary causes of OA in old age. According to a 

study

, knee injuries raise knee OA risk six-fold.

Obesity:

 Joint cartilage wears down more quickly when there is more stress on weight-bearing joints like the knees, hips, & lower back. 

Genetics:

 Some individuals have a genetic predisposition to develop OA. Evidence from familial & twin research points to an inheritance factor, although the genes responsible have yet to be identified.

Bone deformities:

 Malformed joints or damaged cartilage may affect a person's risk of developing OA from birth.

Certain Occupations:

 Occupations involving repetitive stress on specific joints can increase the risk or predispose joints to an accelerated onset of OA.
What are the 4 Stages of Osteoarthritis?
Stage

What Is It

Symptoms & Signs

Diagnosis

Treatment

Stage 0 

(Pre-Osteoarthritis)

Normal, healthy joints or cellular damage from early OA.

No symptoms to note; potential alterations to the joint lining.

MRI examination

OTC medications, supplements, lifestyle changes

Stage 1 

(Early or Doubtful)

Early OA, minor cartilage loss, & bone spur development.

Some may experience mild pain, & cartilage loss begins.

Physical exam, MRI, X-rays, laboratory tests

Lifestyle changes, supplements, OTC medications

Stage 2 

(Mild or Minimal)

Growth of bone spurs & minor cartilage degeneration.

Increased activity-induced pain, rigidity, & mobility restriction.

X-rays, symptoms assessment, physical exam

NSAIDs, lifestyle changes, low-impact exercises

Stage 3 (Moderate)

Cartilage wear & visible joint space constriction.

Constant pain, morning stiffness, & joint swelling

Symptoms assessment, physical exam, X-rays, MRI

NSAIDs, pain medication, injections, physical therapy

Stage 4 (Severe)

Significant cartilage loss & joint degeneration.

Severe pain, activity restriction, stiffness, & inflammation.

Symptoms assessment, physical exam, lab tests, X-rays, MRI

Osteotomy, arthroplasty (joint replacement)
Osteoarthritis Diagnosis, Treatment & Preventive Measures:
A comprehensive medical history, physical examination, & imaging tests, such as X-rays or MRI, are necessary for an accurate osteoarthritis diagnosis. 
Depending on the disease's stage & severity, conservative treatments like physiotherapy or surgical procedures can help alleviate pain & enhance joint function. Dr. Sameep Sohoni, an Orthopedic Doctor in Thane, provides sophisticated osteoarthritis treatment solutions to meet patients' demands.
How to prevent osteoarthritis is as follows:
Maintaining a healthy weight relieves strain on weight-bearing joints.

Keep Active while engaging in regular exercise to strengthen the muscles surrounding the joints.

Alternate between repetitive tasks or use (or wear) joint protection to prevent chronic stress.

Wear protective gear when engaging in sports to prevent accidents.
Conclusion
Understanding the "causes of osteoarthritis" & its impacts can aid patients & medical professionals in managing this degenerative condition. Although complete solutions are unusual, symptomatic relief & functional restoration are attainable due to modern medical advancements.
Dr. Sameep Sohoni – The Best Joint Replacement Surgeon in Thane
Dr. Sameep Sohoni, a renowned Knee Replacement Surgeon in Thane, is an expert in robotic knee replacement surgery, providing remarkable results & patient satisfaction. He's the most famous orthopedic specialist, with over 12,000 patients & 12 years of experience in robotic joint replacement, fracture surgery, bone & joint disorders, sports injuries, & arthritis treatment.
If you are experiencing osteoarthritis symptoms, consult with Dr. Sameep Sohoni, a Joint Replacement Surgeon in Thane, who has extensive experience diagnosing & treating osteoarthritis. He will provide you with expert guidance & treatment options to manage your symptoms & enhance your quality of life.
Reference